Chinese Vintage Late-Qing Famille Rose Petal Shape Porcelain Oriental Stem Plate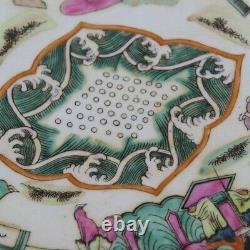 This Chinese vintage porcelain stem plate hails from the late Qing Dynasty, and it's a testament to the period's exquisite craftsmanship. Its distinctive petal-shaped rim, adorned with wave-like patterns, serves as a beautiful frame for a detailed depiction of daily life during the Qing Dynasty.
In the center, a mesmerizing wave motif adds depth and character to the plate. Porcelain base boasts a captivating turquoise-green hue, typical of Qing Dynasty ceramics, and is graced with a.
Meticulously carved red character mark. Foot Dia:16.6cm /. The true color might have slightest pang of.
Varation due to surrounding light. All Items are PERSONALISEABLE & GIFTABLE FOR FREE, Please contact me for the gift card content. Thank you for your support at OFAE store, we are pleased to offer all new customers a. Days (Subject to Variations in Import Policies). I Use Brand New High quality Materials to Send all of my Parcels, I will often water-soluable form to ensure the items get to you Safely and Quickly. 300 or more are eligible to join our private group, where they can enjoy monthly exclusive access to a selection of exquisite items for priority choosing. I have Been Collecting and Dealing in Antiques. For most of My life, However there is always a Subjective element with Antiques and sometimes i may get it wrong. I always welcome any information or advice about my items. And packaging costs are very high in this field.
Please keep in mind that we are offering used goods for sale here - they are not new goods - this means that the items may show signs of. Is that we are always happy to offer bundle sales.